It has taken me years to find products that work for my skin. I have super sensitive skin, that's oily and prone to breakouts. I've had problem skin since high school, but in high school I didn't know how many products there were that could help my skin, so I really only experimented with a few basic types of face wash. Fast forward to my freshman year of college –> I broke out with many tiny, irritated pimples on my cheeks that would not go away no matter what I did. I figured out I was actually allergic to one of the products I was using, but this left me with a ton of tiny acne scars on my cheeks. This left me feeling super insecure and on a long journey to find the best products. Through lots of trial and error, two years later I think I have found what works for me.
Many of the products I use are gentle cleansers made for sensitive skin. I used to always get random dry red spots from using harsh exfoliants. If I use an exfoliating wash or face mask now, it is only 1-2 times a week. Other products focus on acne scars. My main issues are acne, scarring, and having such sensitive skin, so many of the products below relate to that.
*The links provided below are for your benefit! I do not make any profit/commission from them.
Mario Badescu Facial Spray with Aloe, Sage, and Orange Blossom
I love this facial spray. I just started using it in December, but I've already noticed my skin is more bouncy and hydrated. The aloe is super soothing on my skin. I use this after I wash my face and before I do my make up to make sure my skin stays moisturized! Benefits: tones and improves skin quality, creates a smooth complexion, and it's hydrating. I've always purchased mine at Ulta for $7!
Vitamin C Oil
I use this to help with my acne scars. I've always read that Vitamin C is great for acne scars, so I decided to give it a try. I think it has definitely lightened my scars over the last few weeks. I also use it as an overnight "treatment" on any problem dry spots I get, like the creases around my nose or under my eyes. This works as a great moisturizer for my people with my dry skin!! Benefits: hydrates, brightens, improves skin texture, and fades acne scars. I found mine at Marshall's for about $8, but I'm sure you could find it practically anywhere.
Clarisonic Facial Brush + Clean & Clear Facial Cleanser
Clarisonic Facial Brush: LOVE. My dad got this product for me from QVC since he works there. I would never spend this much on a skincare product cause ya girl doesn't have a lot of money to drop, but my dad gets a nice discount being an employee. (If you're reading this – thanks Dad!!) The brush I have is Clarisonic Mia 2. I believe they just put out a new one, too! Mine has 2 settings, and I always use the lowest one since it's more gentle. It also came with 4 extra brush heads because you're supposed to replace the brushes every 3 months. Charger for the brush included, also. I feel like this definitely helped to clean my skin deeper than just a using a face wash and get all the makeup/pollutants out of my pores. Since this is rotating brush head, it's recommended to use a gentle cleanser. I bought the Clean & Clear Facial Cleanser to pair with it! I use the brush 3-4 times a week since it can cause my skin to get a little bit dryer in the winter months.
Link for similar Clarisonic
Yes to Grapefruit Pore Perfection Night Treatment
Along with the other products, this one has helped me reduce the appearance of my pores and scars. This is due to the grapefruit and Vitamin C extracts. This product has lasted me a 2 months already which is impressive since it is a relatively small bottle. It is a push pump product, so you can pump as little or much as you want, and it helps reduce the chances of you wasting any product. Added plus: another cruelty free product!
Shop it here
Witch Hazel – Rose Petal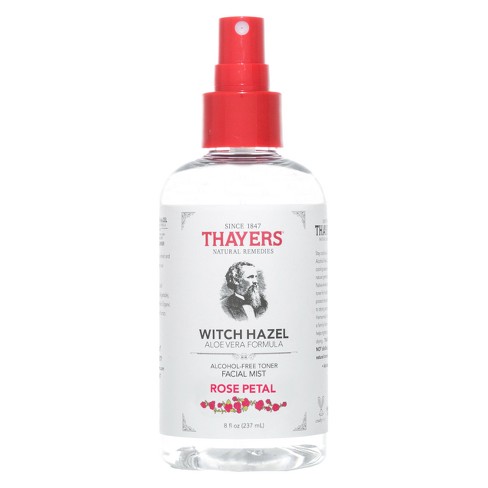 This toner drastically reduces the size and appearance of pimples overnight. It is an alcohol-free toner so it won't dry out your skin as much. Another great product for sensitive skin! I've always been skeptical of toners because many of the ones I've tried have dried out my skin or given me red splotches where I had applied the product. I've never had any issues with this one though. I use the rose petal toner, but they also have an unscented version and one with a spray top. For this one I drip a small amount onto a cotton ball and dab it on any problem spots. Added benefit: another cruelty free product! This toner also tightens your pores and soothes your skin since it has aloe vera in it, too.

Shop it here
I'm hoping some of these products can help you if you have problematic/sensitive skin! These are just some products that have worked for me, but everyone's skin is different. If you're having serious problems with your skin and it's making you feel insecure or you just want to get it treated, I highly recommend you visit a dermatologist! They can recommend over the counter skin cleansers and toners, or they can give you products to test for your skin. Everyone gets acne, so please don't beat yourself up over your skin. For most people, finding products that work take a long time to figure out. Try not to pick at your skin either because it can make your acne spread and give you worse scarring. Always remember to moisturize your skin after washing it, this helps tremendously. Feel free to reach out to me on any of my social platforms listed, or through the contact area on my blog!